Dealer 20 Groups are a collection of 20 non-competing dealers with similar business models who meet three times a year to exchange ideas, identify best practices, resolve challenges and discover hidden opportunities.
20 Groups empower owners, managers, teams and dealerships to unlock their full potential.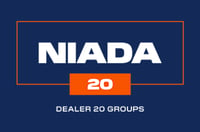 NIADA is there to help you and your team thrive in the new economy by providing innovative thought leadership, proven strategy, data, and expertise to support you on your growth journey. We facilitate change that matters for substantial value today and tomorrow.
NIADA 20 Group moderators have an average of 30 years of auto industry experience and have held senior-level positions for some of the biggest names in the used vehicle industry: Sonic Automotive, Berkshire Hathaway, America's Car Mart, Superior Automotive, and Byrider to name a few.
Join a NIADA 20 Group and you will take your business to new heights of success others only dream of.
Back to top
Ready To Become A Member?